Zeiss just announced a set of 5 cinema lenses. They come in a custom made case.
These lenses are included:
Distagon T* 2,8/21
Distagon T* 2/28
Distagon T* 2/35
Planar T* 1,4/50
Planar T* 1,4/85
With these Zeiss reacts to the growing demand of affordable lenses with a precise manual focus.
The recommended retail price is 4562,- € exclusive of taxes.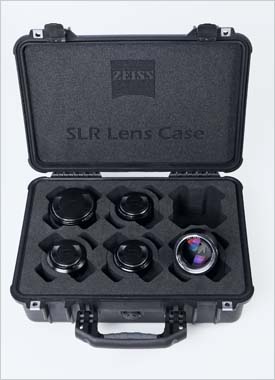 « Sony about to introduce a 8K x 2K CineAlta camera at NAB 2011 Sneak peek of EPIC support by Adobe »